Nyhet2016-02-10
Poul Due Jensens Fond stöder Stockholm Water Prize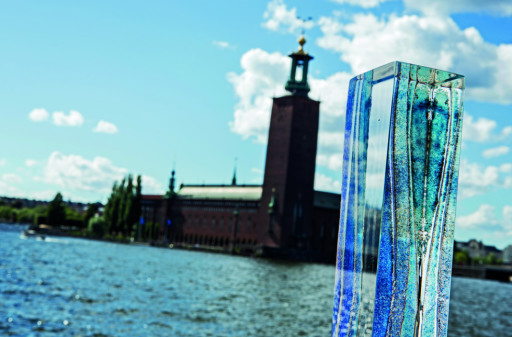 Poul Due Jensens Fond, huvudaktören bakom pumpgiganten Grundfos, knyter nu tätare band till vattenvärlden, som ny "grundare" bakom prestigefyllda Stockholm Water Prize.
Från 1 januari 2016 ingår Poul Due Jensens Fond i gruppen av grundare bakom Stockholm Water Prize – världens mest prominenta pris inom vatten. Priset utdelas varje år av Stockholm International Water Institute (SIWI) till individer eller organisationer som arbetar för att skydda och bevara vattenresurser och för att förbättra levnadsvillkoren för planetens invånare och ekosystem.
– I SIWI är vi glada och stolta över att Poul Due Jensens Fond nu kan räknas bland våra fasta stödjare. Fondens arbete för att ge åtkomst till de mest utsatta på vår jord med vatten är berömvärt, och vi ser fram mot att samarbeta med fonden om att skapa en värld där vi utnyttjar vattenresurserna på klokare och mer hållbart sätt, säger Torgny Holmgren, Executive Director, SIWI.
Vinnaren av Stockholm Water Prize 2016 kommer att offentliggöras på på Världsvattendagen den 22 mars av SIWI:s Executive Director Torgny Holmgren.
Prisutdelningen äger rum under World Water Week varje år i augusti. Under World Water Week samlas ledande NGO:er och utvecklingsorganisationer och utväxlar information med ledande forskare, vetenskapliga institutioner och beslutsfattare inom vattenområdet.
Naturligt att stöda hållbara vattenlösningar
Poul Due Jensens Fond äger cirka 88 % av pumpgiganten Grundfos och donerar varje år större och mindre belopp till projekt inom humanitärt bistånd, socialt inkluderande, forskning och innovation. Vattenprojekt svarar för omkring 75 % av donationerna.
– Vatten och transport av vatten har – genom ägandet av Grundfos – varit en nyckelaktivitet vid uppbyggnaden av den förmögenhet fonden förvaltar. Vad kan därför vara mer naturligt än att fonden genom att stöda Stockholm Water Prize bemöter en av världens största utmaningar, nämligen att skaffa alla tillgång till rent och säkert vatten och därmed visa vårt stöd för de människor och organisationer som gör skillnad i världen? uttalar Christian Hartvig, fondsdirektör, Poul Due Jensens Fond.
Fakta
Som grundare erlägger Poul Due Jensens Fond ett engångsbelopp på 1 miljon svenska kronor. Därefter bidrar fonden årligen med 150 000 SEK till Stockholm Water Foundation.
Foto:
Vinnaren av Stockholm Water Prize 2016 kommer att offentliggöras på Världsvattendagen den 22 mars. Credit: SIWI
Frågor och ytterligare kommentarer kan ställas till
SIWI och Stockholm Water Prize: Rowena Barber, Outreach and Media Relations, tel. +46 81213 6039,
e-post: rowena.barber@siwi.org
Circle of Founders: Louise Heegaard, Fundraising Specialist, tel. + 46 812136046,
e-post: louise.heegaard@siwi.org
Poul Due Jensens Fond: Christian Hartvig, Fondsdirektør, tel. +45 23732636,
e-post: chartvig@grundfos.com
Grundfos är med en produktion på över 16 miljoner pumpenheter om året en av världens ledande pumptillverkare. De största produktgrupperna är cirkulationspumpar för uppvärmning och luftkonditionering och centrifugalpumpar för industriellt bruk, vattenförsörjning, avlopp och dosering. Så gott som varannan cirkulationspump som säljs på världsmarknaden i dag är en Grundfospump, vilket gör företaget till världens största tillverkare av cirkulationspumpar. Grundfoskoncernen finns representerat av drygt 80 företag i fler än 55 länder. Dessutom säljs Grundfos produkter av distributörer i ett stort antal länder.