Nyhet2017-11-02
Fjärrvärme till Stena Danica vinner internationellt hållbarhetspris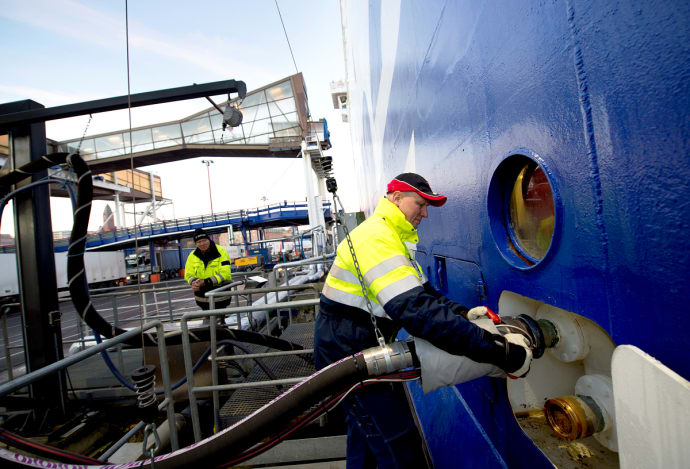 För andra gången på ett halvår vinner EU-projektet CELSIUS som leds av Göteborg Energi och Göteborgs Stad ett stort internationellt klimatpris. Denna gång är det fjärrvärmeanslutningen av passagerarfärjan Stena Danica som vinner The Global District Energy Calimate Awards i kategorin "Out of the box" – "Ett banbrytande demonstrationsprojekt", heter det ibland annat i motiveringen.
– Att vinna det här priset är verkligen hedrande och ett härligt erkännande för det arbete vi bedriver inom CELSIUS-projektet. CELSIUS handlar bland annat om att hitta nya, innovativa sätt att använda fjärrvärme och anslutningen av Stena Danica är ett bra exempel på hur vi i Göteborg samarbetar för att utveckla vårt fjärrvärmesystem och ta nya steg mot en hållbar stad, säger Jonas Cognell, projektledare för CELSIUS på Göteborg Energi.
CELSIUS-projektet, som är en del av Smart Cities, startade 2013 med målet att rekrytera 50 europeiska städer där varje stad skulle utveckla och demonstrera smarta integrationslösningar med fjärrvärmenätet. Målet har med råge överskridits och i dagsläget ingår 67 städer i projektet. CELSIUS har under resans gång uppmärksammats på olika sätt, senast i juni 2017 då projektet vann EU Sustainable Energy Award.
– I Göteborg har vi svart bälte i fjärrvärme, bland annat genom att ta till vara den överskottsvärme som uppstår inom industrin och vid förbränning av sopor. Om alla städer i Europa använde överskottsvärmen lika effektivt som vi gör skulle hela värmebehovet i Europa kunna tillgodoses, vilket är en svindlande tanke. Att få dela med sig av den kunskapen och samtidigt lära sig av städer med andra förutsättningar är en spännande resa, säger Jonas Cognell.
Den 27-28 november går CELSIUS-projektet i mål genom en stor konferens i Göteborg där 150 deltagare från olika länder väntas delta.
Läs mer om CELSIUS här: http://celsiuscity.eu/
Läs mer om The Global District Energy Climate Awards här: http://www.districtenergyaward.org/category/awards/5-global-district-energy-climate-awards-2017/
Läs mer om CELSIUS Summit här:  https://www.b2match.eu/CelsiusSummit2017
För mer information kontakta:
Cecilia Erdalen, pressansvarig Göteborg Energi, 070-466 04 28, cecilia.erdalen@goteborgenergi.se